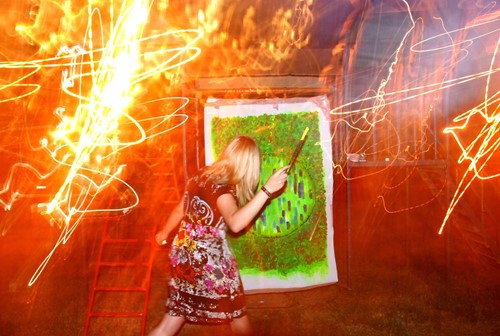 SOLODINA KATYA
Moscow based artist
Contact: solodina.katya@gmail.com

The main aim of Ekaterina Solodina's practise is to open up the intimate process of painting. Through making parts of the process visible, Ekaterina makes the viewer aware of the decision making process.
Ekaterina emphasizes the uniqueness of each painted mark by the juxtaposition and stratification of various textures. Painting itself seems to the artist incredibly important right now when the majority of information is perceived via flat screens of the computer/TV/phone. Ekaterina creates works which are exaggerated and chaotic like children's dreams and memories. Naive compositions, deliberate bright colors and multi layered textures, transport the viewer in the time when he was able to dream and create with impunity.
EDUCATION
2018, Contemporary Art with Andrey Bartenev, Management of Educational Programs, Moscow
2016-2017,  BA Fine Art(Hons), BHSAD, Moscow
2014-2015, Free Workshops, MMOMA, Moscow
2010-2013, Fine Art Diploma, BHSAD, Moscow
PERSONAL EXHIBITIONS
2017, Moment of Eternity/ Eternity of a Moment, Imeretinsky, Adler
2014, We'll never be as young as we are tonight, Agency Art.ru, Moscow
GROUP EXHIBITIONS
2019, Bad Video-Art Festival, Zverevsky Center of Contemporary Art, Moscow
2019, Snowy Bass, Teatral'nyy Muzey Im. M.s. Shchepkina, Moscow 
2019, Moscow conceptualism. Connection, ARTPLAY, Moscow
2018, Contemporary Art: Abstraction, Mega, White Dacha, Moscow
2018,  Bad Video-Art Festival, A3, Moscow
2018 Acht, Gallery ZWO, Vienna, Austria
2018 Succession, Tekhnopolis Moscow, Moscow
2017, Spil Meet Mir, Samara
2017, What will I leave?, Poligrapgychesky Cekh, Moscow
2017, Reveal, ARTPLAY, Moscow
2017, Spil Meet Mir, Zverevsky Center of Contemporary Art, Moscow
2017, Frameskription, Poligrapgychesky Cekh, Moscow
2017, Bad Video-Art Festival, A3, Moscow
2017, Surface, Art Box, Moscow
2016, Space. Love, ARTPLAY, Moscow
2016, Sorry it's not all, Forma Festival, Moscow
2016, Forma Festival, Moscow
2016, Yabududoma, Moscow
2016, Now in the Loft, Soulful Loft, Moscow
2016, Sorry it's not all, TotalArtClub, Moscow
2015, 15% back by buying kit, Bogorodskoe gallery, Moscow
2015, Sub observationem, MMOMA, Moscow
2014, Implementation, Graund Hodynka, Moscow
2014, AlcoArt, Grey's, Saint Petersburg
2014, Inspire me, Smirnov&Sorokin Foundation, Moscow
2013, Art.Moment 2013 Festival,ArtPlay, Agency Art.ru, Fabrica, Moscow
2012, Peripheral Vision, Heraachi&Heraachi art-group, Agency Art.ru, Moscow
2012, End Of Year Show, Fine Art Year 1,ArtPlay, Moscow
2012, Situational Sculpture,  ArtPlay, Moscow
2012, Painting Show, artist, ArtPlay, Moscow
2012, Video Show, "Otn'ud'" art-group, ArtPlay, Moscow
2011, End Of Year Show, Foundation Fine Art, ArtPlay, Moscow
2011, Innominis, Exhibition Hall Of The City Center Of Fine Arts Of Novosibirsk, Novosibirsk
OTHER:
2019, Gagaulala, collage project, Moscow 
2019, Is Varza, city based collage project, Cluj-Napoca, Romania
2019, Prunk, city based collage project, Sighisoara, Romania
2019, Stand up Festival, Paramount Comedy, collage decoration, Izmailovo Kremlin 
2019, Wine & Sky, mural 85m2, Wine Bar Sky and Wine, Saint-Petersburg  
2018, Real Money, Real Deal, Art-act, Prague, Czechue Republic
2017, Girls Know the Truth, collage project, Moscow
2015, Desperation, city based collage project, Venice, Italy
2014, Grolsch, 400 years of Creativity, Amsterdam, Netherlands
2012, Ian in da town, Art-act, Moscow 
2014, Interview, Moscow 24 channel
http://www.m24.ru/videos/58038?attempt=2